Border Fine Arts'Taking Flight' Limited Edition 1462/2500 Brace of Pheasants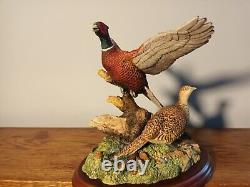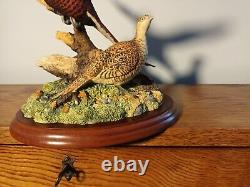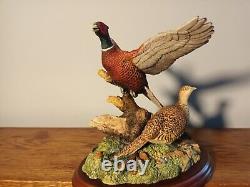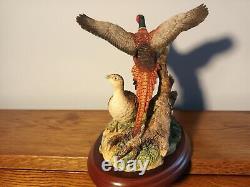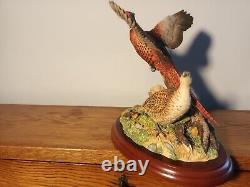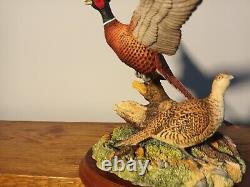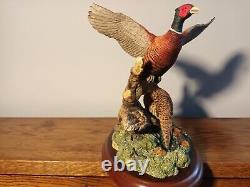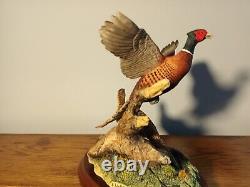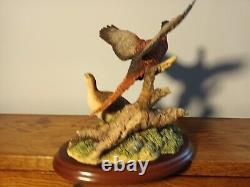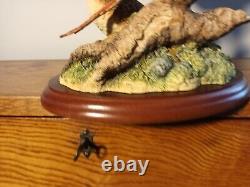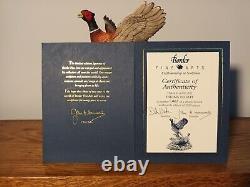 The so called Common Pheasant looks anything but commonplace, he is an. The strikingly coloured male is about 90 cm. Long to the tip of his streaming cross-barred tail.
His breast is a burnished. Copper and his entire body is speckled and barred. He is noted for his. Pugnacity in the breeding season, inflicting vicious downward blows with. The spurs on the back of his legs, a courting male can hack a rival to death.
In the presence of the hen. It is usual for a male to attract a harem of three hens. Which lay three eggs in the grassy nest scraped in the ground. However there cannot be a more impressive sight than a cock and hen pheasant. In an open woodland glade or field.
Their spectacular plumage serves to camouflage. Them to blend in with their surroundings. The male pheasant is one of our most colourful birds and is beautifully represented. The brace of birds have been foraging on the woodland floor in autumn. But now the male takes flight. A limited edition model, excellent in every way, if you only.
Want or have room for one pheasant model in your collection, this has to be it.